RSD is Excited to Introduce…
NEW Mammography Phantom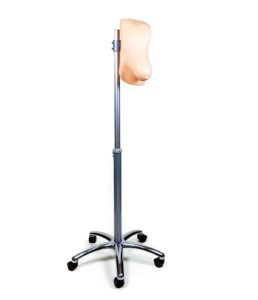 POSITIONING AID FOR CRANIOCAUDAL & MEDILATERAL OBLIQUE VIEWS
RSD's NEW Mammography Phantom is a perfect patient substitute allowing instructors to teach mammography positioning. This valuable training aid simplifies classroom procedures, allowing trainees to capture as many exposures as needed to develop expertise.
Mammograms of the phantom, taken within the range of standard technical factors, provide realistic images with high contrast. Option to add micro-calcification clusters to train for spot compression and magnification views. See clinical images and testimonial below for more information.
---
Clinical Images
---
Testimonial
"We are very happy with RSD's new Mammography Phantom! The X-ray images provide clear micro-calcification clusters so that we can effectively train students in both spot compression, as well as magnification views. Even the skin is better, the feel is better, and the positioning of the phantom is easier. I can't wait to use it in a lab in a few weeks!"
– Debbie Lam, MSEd, R.T.(R)(M)(CT), Assistant Professor at Community College of Baltimore County (CCBC) Essex, Department of Medical Imaging
---
Visit RSD at RSNA Booth 3007!
We'll have our expert staff on hand to answer questions, discuss new opportunities, and reintroduce you to RSD… Your partner in customizable, multi-modality phantom & imaging solutions!

---
Be Our Guest at RSNA 2022!
RSD has ONE COMPLIMENTARY GUEST PASS ($525 value) to the Technical Exhibit at the world's largest medical imaging conference, RSNA!
Be the first RSD subscriber to send a message to marketing@rsdphantoms.com for an exclusive invitation to register as our guest at RSNA's Technical Exhibit!
RSD's guest pass provides in-person attendance to the Technical Exhibit Halls at McCormick Place in Chicago from November 27-30, 2022, as well as access to virtual industry presentations, booths, and workshops.